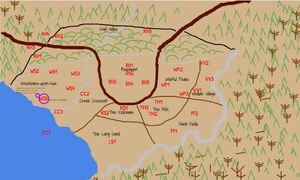 The following is a list of characters involved with the investigation of Gilbert Lutz's murder in Rosemerrow.
Golden Lance deputies
Edit
Suspects
Edit
Gloria's persons of interest
Edit
Brown Byrd – freight/hauling expert (works with gnolls), Byrd Shipping & Handling
Kel Carolina – Carolina House representative & Lutz's right hand, Lutz Low House, Roseheart
Solomon "Sol" Cider-Brew – trader & brewmaster, The Mills
Espanarde the Great & Eclectic – traveling illusionist, cart in Westshore Fair
Stornras Glasseye – Justiciar-Adjutant, Ordennan encampment
Sid Half-Off – merchant, The Canyon
Jerod Shiraz – Vicereine of Ordenna, Hawk and Mouse Inn, Viridian Village
Leyva Maestro – priestess, Grand Temple to the Ghosts of the Past
Terra Merrow – curator of the Old Museum
Fela Malle – Ordennan Impetor, the Sapphire Song, Creek Crescent
Jean Ondal – Velasian ambassador, Velasian consolate, Wistful Peaks
Elgash Or – archivist, New Archives Trade & Barter, The Kickshaw
Mitta Parr – migrant farmer, Greeneworks Migrant Boarding House No. 12, Flank Fields
Qinta Quatróna – Chief-Justiciar, Ordennan encampment
Finnitel "Finn" Quincy – Lutz's romantic partner, High House of the Chancellor, Roseheart
Elan Showman – theatre operator & director, Westshore-upon-Scene theatre & acting school
Marisol Sweetwater – editor-in-chief, The Rosemerrow Current
Bray Tevilton – Chief Inspector, Rosemerrow Major Crimes Division, The Mills
See Also
Edit
Ad blocker interference detected!
Wikia is a free-to-use site that makes money from advertising. We have a modified experience for viewers using ad blockers

Wikia is not accessible if you've made further modifications. Remove the custom ad blocker rule(s) and the page will load as expected.