This list is incomplete; you can help by expanding it.
The following is a list of characters from the Autumn in Hieron arc in which the Boat Party sails south from Velas with plans to visit a tower near Rosemerrow before being attacked by the pirates of the Kingdom Come and traveling to the forgotten city of Nacre.
Adventurers
Edit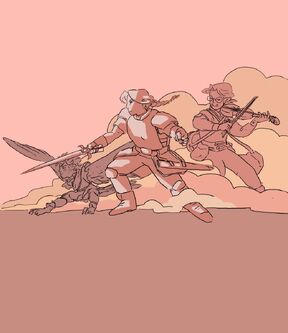 Hella Varal
Edit
Main article: Hella Varal
Hella Varal, the Fighter, is a stern
human
from
Ordenna
who wields
an ancient sword
and addresses problems through violence. She is played by
Ali Acampora
.
Lem King
Edit
Main article: Lem King
Lem King, the Bard, is a charming
orc
who stole a violin from
the New Archives
and is now on the run. He can use his instrument to produce pattern magic effects. He is played by
Jack de Quidt
.
Fero Feritas
Edit
Main article: Fero Feritas
Fero Feritas, the Druid, is a frank and energetic
halfling
from
Rosemerrow
who left his hometown to live in the mountains near the New Archives and commune with the wilderness. He possesses the ability to speak with and transform into any animal whose essence he has studied. He is played by
Keith J Carberry
.
Kingdom Come Edit
See also
Edit
Ad blocker interference detected!
Wikia is a free-to-use site that makes money from advertising. We have a modified experience for viewers using ad blockers

Wikia is not accessible if you've made further modifications. Remove the custom ad blocker rule(s) and the page will load as expected.